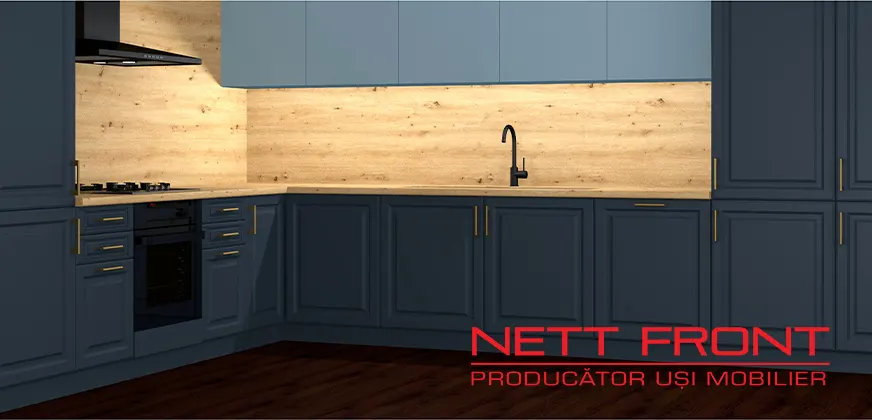 Nett Front, manufacturer of doors and furniture decorations, has had sales increases of 20-30% per year, with the SeniorXRP platform from Senior Software, managing to achieve unique production at the same time and cost as it would in series manufacturing. The company, which has registered a spectacular evolution in recent years, generates and operates hundreds of orders every day, without errors, customers being able to easily place their orders in the system's portal, from where they are automatically taken into production.
Nett Front, a company from Mures (Romania), uses modern technologies to produce customized fronts made of MDF, painted or laminated (unique production), at the same cost and in the same time as mass production. It receives and operates hundreds of orders daily, supported by SeniorXRP from Senior Software - ERP software for managing resources and complex business flows.
In 2016, the company acquired the SeniorXRP platform, which was integrated with the manufacturing systems already used by Nett Front. With the help of the automation, the manufacturer recorded increases of 20-30% per year in terms of orders and managed to triple its turnover, reaching 13.5 million euros in 2021. The partnership with Senior Software supported the continuous development of the company and led to the achievement of notable results, such as: increasing data accuracy, reducing working times, optimizing banking operations, managing an increased number of orders with the same staff, etc.
With SeniorXRP, Nett Front's customers went from manually entering data into an Excel form and sending it by e-mail or fax, to placing the order in two clicks and sending it to production in a few seconds, compared to the half hour it used to take previous.
SeniorXRP is incredibly intuitive and gives us a very big advantage. It helps us make up to date, quick and concrete decisions. The information in the system is as clear as possible and can be used from anywhere, with a simple click, effectively reducing decision times.

One of the most important customizations is the orders module, more precisely the self-service portal in SeniorXRP, where customers can quickly enter orders directly into the platform, and when the entered parameters do not match, the system warns them with a pop-up.

The order is entered very simply, it's as easy as like walking. We have clients who enter dozens of orders in a very short time, without any problems. The simplicity of the system is incredible. It's a difference from Heaven to Earth. After they realized how simple it is to place an order, our clients told us that they don't see themselves going back to the old way of working. We generate and operate hundreds of orders almost every day, with the same number of employees. We have a constantly increasing flow, from year to year, of 20-30%, in terms of orders

- specified Matei Mircea, Sales Manager – Nett Front.
With the help of the solution from Senior Software, Nett Front has automated a wide range of workflows in the company, both in the production area and in the financial-administrative area. Here are some processes that run much more efficiently thanks to the SeniorXRP system:
Automatic processing of client orders & sending them to production
Mass listing of business documents
Automatic loading & unloading of inventory
Sales orders management & automatic reception handling etc
Due to the integration of the system with the other applications used by Nett Front, the fluidization of the flow of information from the entire company was achieved, which allowed the connection of work processes and the increased streamlining of daily activities.
We have information related to the entire manufacturing process, the materials used in the production process, but also information related to stock rotation, our customers, their requirements, both in terms of marketing products and in terms of market requirements.

Integrating the system with other applications is quite easy. We have integrated SeniorXRP with three large proprietary software: the one for optimizing the production process, the one for tracking production and the one for packaging and palletizing. The software is compatible with banking systems, that's why we managed to automate payments to suppliers and process bank statements automatically with SeniorXRP.
- noted Czink Melinda, CFO – Nett Front.
"6 years have passed and we still see that we can develop together"
At the beginning of their activity, Nett Front briefly used a classic accounting program, and then a simpler ERP, which it changed after only 3 years, because it no longer allowed the management of their growing volume of data. Furthermore, according to the manufacturer, during 7 years, they used another ERP software, which was more complex, but which was also replaced because it was no longer developed to match the pace of growth of the Nett Front business.
Since then, Nett Front has been using SeniorXRP, a flexible and scalable ERP software solution designed to function as a development platform. With an intuitive interface, the system includes extensive ERP, CRM, Self-Service Portal functionalities and more, perfectly integrated, based on the latest technologies. The transition from the old software to the SeniorXRP platform was carried out automatically, without the need to interrupt the producer's activity and without affecting the customers, the Go Live being carried out from one day to the next, in a single night.
The main reason why we chose SeniorXRP was its flexibility, but also the fact that the supplier undertook to customize the system according to our needs. We started with the hope that in 6 years we will not end up in the situation of changing the software again, and now these years have passed and we are still satisfied with the collaboration and we still see that we can develop together.
- mentioned Széll Andrea, Assistant Manager – Nett Front.
Founded in 2006, Nett Front is a company from the Mures county (Romania), which produces laminated and painted doors and furniture decorations, made of MDF material, in atypical and standard sizes, including the ability to honor series orders. Nett Front started as a family business, with 8 employees and a rented area of 1,200 square meters, now reaching a number of 130 employees and own premises of over 10,000 square meters.
Senior Software is a supplier and developer of high-performance software systems for integrated business management. Founded in 2003, the company has made over 450 successful implementations, using state of the art technologies. Senior Software implements intuitive ERP, BI, SCM, MES, E-commerce and Hardware systems. The company operates in five locations in Romania (Bucharest, Constanta, Cluj, Iasi, Timisoara) with a team of over 180 employees.
Download the free factsheet for SeniorXRP and learn how it can help you develop your business!